Have you heard of the phenomenon Ottolenghi?
This phenomenon is none other than an Anglo-Israeli chef and author, Yotam Ottolenghi. He shares colorful recipes, highlighting vegetables but also spices and flavors of the Middle East. Given the scope of this chef's success, and the delicacy and modernity of his dishes, we decided to have you discover his tasty recipes paired with the wines of Touraine-Oisly.
Our wines, thanks to their singular terroir, bring harmony and character to the table. In addition, this expression of Sauvignon blanc and its pleasant finesse accentuate the aromatic richness of this type of pairing.
During a hot afternoon, where we see lizards relaxing in the sun, there is nothing better than a gourmet break in the shade of an arbor to enjoy fresh peach aromas. To accompany this delicious moment, we recommend a refreshing galette, with sweet and fruity notes, slightly aromatic, enough to perfectly go with the minty facet of Touraine-Oisly wines. The right balance between freshness and elegance!
A homemade pastry, juicy and deliciously candied fruit with lime, and a glass of Touraine-Oisly with subtly fruity aromas will make your summer desserts a real delight for your taste buds!
👉 We recommend this recipe: https://ottolenghi.co.uk/recipes/peach-rosemary-and-lime-galette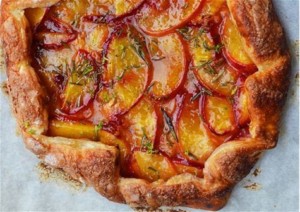 The second recipe that caught our eye is tasty eggplant stuffed with curry and dahl with coconut milk. In other words, a savoury and delicate aromatic dish, a trip to India, the country of a thousand spices. Chef Ottolenghi highlights the coconut and its sweet and reassuring aromas, which will blend perfectly with the floral notes of Touraine-Oisly wines.
This gourmet dish is a feast for the senses. On the palate, it sublimates the volume and roundness of our wines. It's a dish that can also be enjoyed cold at dinner after a hot day!
👉 We recommend this recipe: https://ottolenghi.co.uk/recipes/stuffed-aubergine-in-curry-and-coconut-dal-flavour-pg-152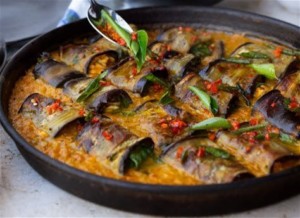 😋 The wines of Touraine-Oisly combine perfectly with chef Ottolenghi's dishes, which are full of different flavours. Conversely, the dishes of the famous chef will reveal all the subtlety of our wines with their multiple notes. Between fruits, flowers and spices, the combination is perfect! Ever so exquisite ✨
Enjoy and do not hesitate to share your recipes online! 🤗